NS4ed Online Professional Development Courses for Teachers
Bring career-connected learning to life with P2C's robust, on-demand professional learning library. P2C's courses are created by educators for educators and provide flexible learning options to meet your needs.
Our ever-expanding online, on-demand library provides access to all courses outlined below. Courses can be accessed 24/7 so you can learn at your own pace. Get started today and experience the P2C professional development difference.
CTE & CCL Training for Teachers
Deliver Career-Connected Learning
What is Career-Connected Learning?
In this introductory lesson, explore the career-connected learning framework and discover ways teachers can guide students in building skills and knowledge to reach their potential.
Instructional Strategies for the Career-Connected Classroom
Discover powerful instructional strategies for enhancing engagement in the secondary classroom and explore how they can align with career-connected learning.
Assessment in the Career- Connected Classroom
Explore a variety of assessment strategies, such as authentic assessments and project-based learning, which align well with career-connected learning.
Teaching Real-World Transferable Skills in the Career-Connected Classroom
Examine the rationale and strategies for teaching real world skills which can transfer to successful future education and workforce experiences. 
Career-connected learning is not just for STEM! Explore ways to incorporate CCL into any subject area classroom.
Examine the core elements of CTE and components that give purpose to learning by emphasizing real-world skills and practical knowledge. 
Connections Between CTE, WBL, and CCL
Discover elements of Work-Based Learning (WBL) programs that are used to promote awareness, exploration, and help students draw connections between coursework and future careers.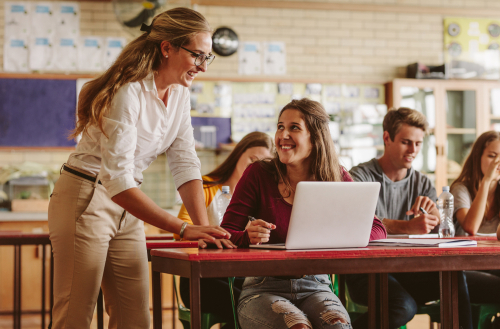 CTE Instructional Planning
Use concepts that assist in CTE instruction planning to incorporate academic, technical, and workplace readiness standards to support the needs of diverse learners. 
CTE Instructional Strategies
Explore CTE instructional strategies that help students develop problem-solving, critical thinking, and teamwork skills while deepening their academic and technical skills.
Examine summative and formative CTE assessments that measure what students learn and the best ways to provide ongoing feedback. 
Discover how to organize personalized CTE learning environments, motivate positive student behavior, and establish rules and procedures that support engagement and achievement.
Applying Educational Theories in the CTE Classroom
Review basic educational theory and instructional strategies.  Lateral entry teachers with no teacher education will discover basic theoretical underpinnings that hold the best learning approaches and activities that support Career and Technical Education (CTE) frameworks. 
Cross-Curricular Strategies for Career-Connected Learning
Discover ways to extend career-connected learning across disciplines and leverage collaboration and a variety of resources and areas of expertise to enhance student success.
Extending Learning to Support Mathematical Understanding
Explore strategies for making math understanding more relevant and attainable for students through making connections and linking math with language and literacy. 
Rigor in the Career-Connected Classroom
Discover what academic rigor is (and what it is not!). Learn strategies for establishing and maintaining rigor in the classroom.
Recommended Practices for Inclusive Teaching
Explore best practices for creating an inclusive classroom environment and review the principles of Universal Design for Learning (UDL).
Promoting Equity in the Classroom
Examine the concept of equity in education and its benefits. Discover ways to promote equity in the classroom.
Analyze career exploration tools that can be used alongside labor market information to assist in informing and preparing students for CTE students with career opportunities in their communities.
Exploring Career Clusters
Examine career clusters and the importance of engaging students in focused career exploration that is centered around clusters and pathways that best fit their interests and needs.
Connecting Math and Careers to Performance Case Study
Review the impact math skills have on student performance expectations, employer's workforce needs, and industry standards.
Connecting Math and Careers to Attitudes Case Study
Discover how different but interrelated variables such as background, motivation, and social support could lead to an explanation of student attitudes toward math.
Connecting Math and Careers to Engagement Case Study
Review motivating factors that directly impact student engagement and are vitally important when improving mathematical performance. 
Memberships provide full access to all online courses outlined above. In addition, new courses are added regularly and included in membership fees.
Up to 10 Educators
Professional Learning Library
Establish an online professional learning community for up to 10 educators

Access to courses covering Career Technical Education and Career-Connected Learning

Unlimited access to on-demand courses

Micro-learning units provide accessible learning opportunities
10 - 20 Educators
Professional Learning Library
Establish an online professional learning community for up to 20 educators

Access to courses covering Career Technical Education and Career-Connected Learning

Unlimited access to on-demand courses

Micro-learning units provide accessible learning opportunities
Unlimited Access
Professional Learning Library
Unlimited access to the online professional learning library

Access to courses covering Career Technical Education and Career-Connected Learning

Unlimited access to on-demand courses

Micro-learning units provide accessible learning opportunities